Products
What's New?
(18-February-2009)
A new tool from the bollard box to help with pedestrian safety ....

(11-August-2009)
LANE-FLEX

Welcome to Traffic Sign Solutions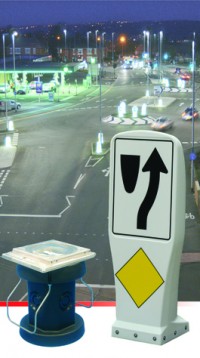 Welcome to the TSS website where you will find information on our innovative products which are bringing a new dimension to traffic safety in North America. Take a while to look around and discover our products which have been sourced from companies around the world. You will find they all have one thing in common – they are the best in their class!

Our engineers travel the world looking for products that will make a difference. Durability, design and build quality, ease of installation, low maintenance, long life and high performance are some of the factors that must be in any of our products. If necessary we work with our suppliers to use their technology and change it to meet the needs of our customers.

Please take a while to have a look around. Make sure you stop by the video gallery it's a great taster for what we do.
Featured Products

The CASPER W54 is a high performance single aspect illuminated flexible bollard with a 12" x 36" (300 x 900mm) Candian W54 sign panel....

The CASPER CROSSWALK adds a new dimension to pedestrian safety by marking the crosswalk with a tough illuminated bollard. Not only can this...